Early Life
Richenda Rhoden (née Phillips) was born in Aberdeen, Washington State to James Phillips and Ernestine (Earney) Phillips on April 4, 1917. Her father was of the Cherokee Nation, and her mother from Menominee. Richenda was named after Richard Henry Pratt, the founder of the Carlisle Indian School, where James and Earney met. James Phillips was the first Native American judge in the State of Washington and later became the mayor of Aberdeen. Richenda was given the Menominee name Paytoemahtamo which means great woman.
Hover over images to enlarge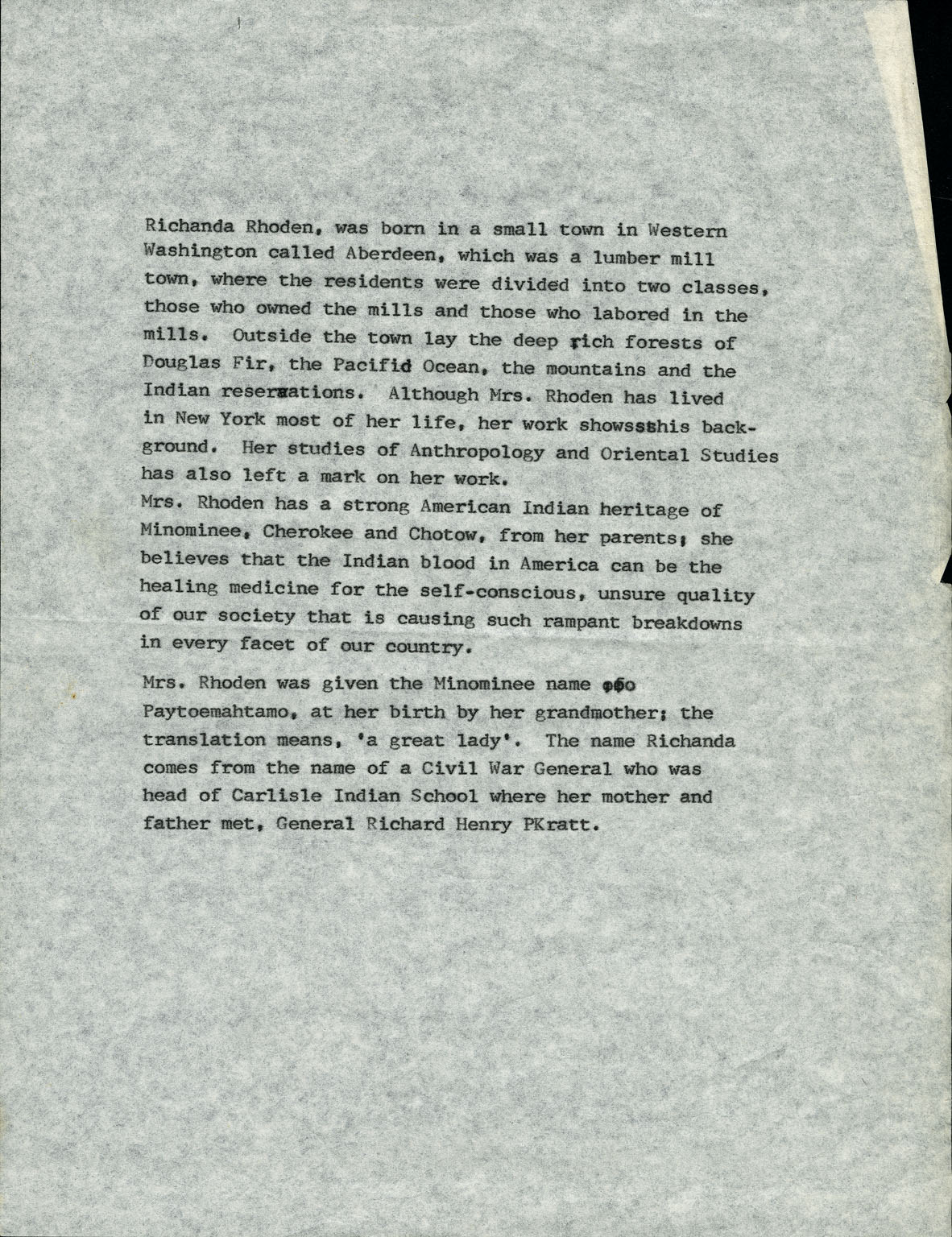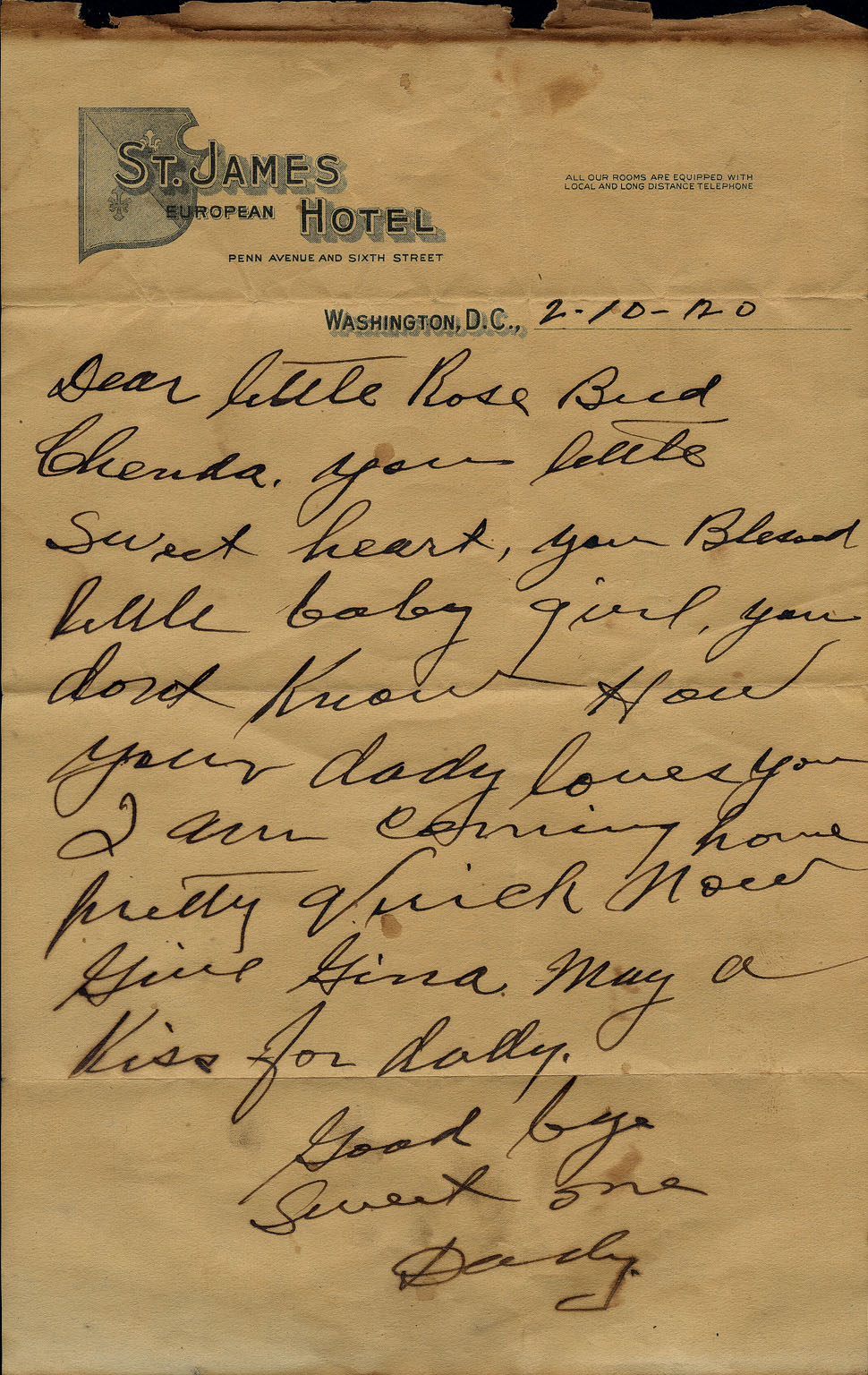 Lawrence Kay
Richenda attended the University of Washington in Seattle, where she studied Anthropology. While she was a student at the university, Richenda met Lawrence Lew Kay. The two eventually married in the early 1940s. Soon after their marriage, America entered World War II, and Lawrence enlisted to serve. Lawrence was an Air Crew Officer and part of the 1943-14th Air Force and ranked Second Lieutenant. The journey to Asia was long and arduous. Before sailing to China, Lawrence was stationed in North Africa for a few weeks. During this time, he wrote Richenda many letters discussing his time on the ship, crewmates, and North Africa experiences. While on the HMT Rohna, a British ship that would take him to where he was stationed in China, there was an enemy attack. Lawrence was one of the 1138 men that tragically died on November 27, 1943. His body was never recovered, and he is considered Missing In Action, lost at sea. The naval attack was the deadliest in American history--more lives were lost in this attack than the USS Arizona at Pearl Harbor.
Due to the circumstances surrounding Lawrence's death, it took many months before Richenda received information on what happened to her husband. Letters between friends, survivors of the attack, and Lawrence's military superiors are found in PAFA's archive.
While working on the John Rhoden Digital Archives Project, it was clear that archival materials contain rich history that is often hidden from history. Richenda and Lawrence's story is a prime example of how unexpected archival materials can be used to support family histories. For instance, during the project, Lawrence's letters have allowed PAFA to connect with his descendants, who have very little information on his life.
Hover over images to enlarge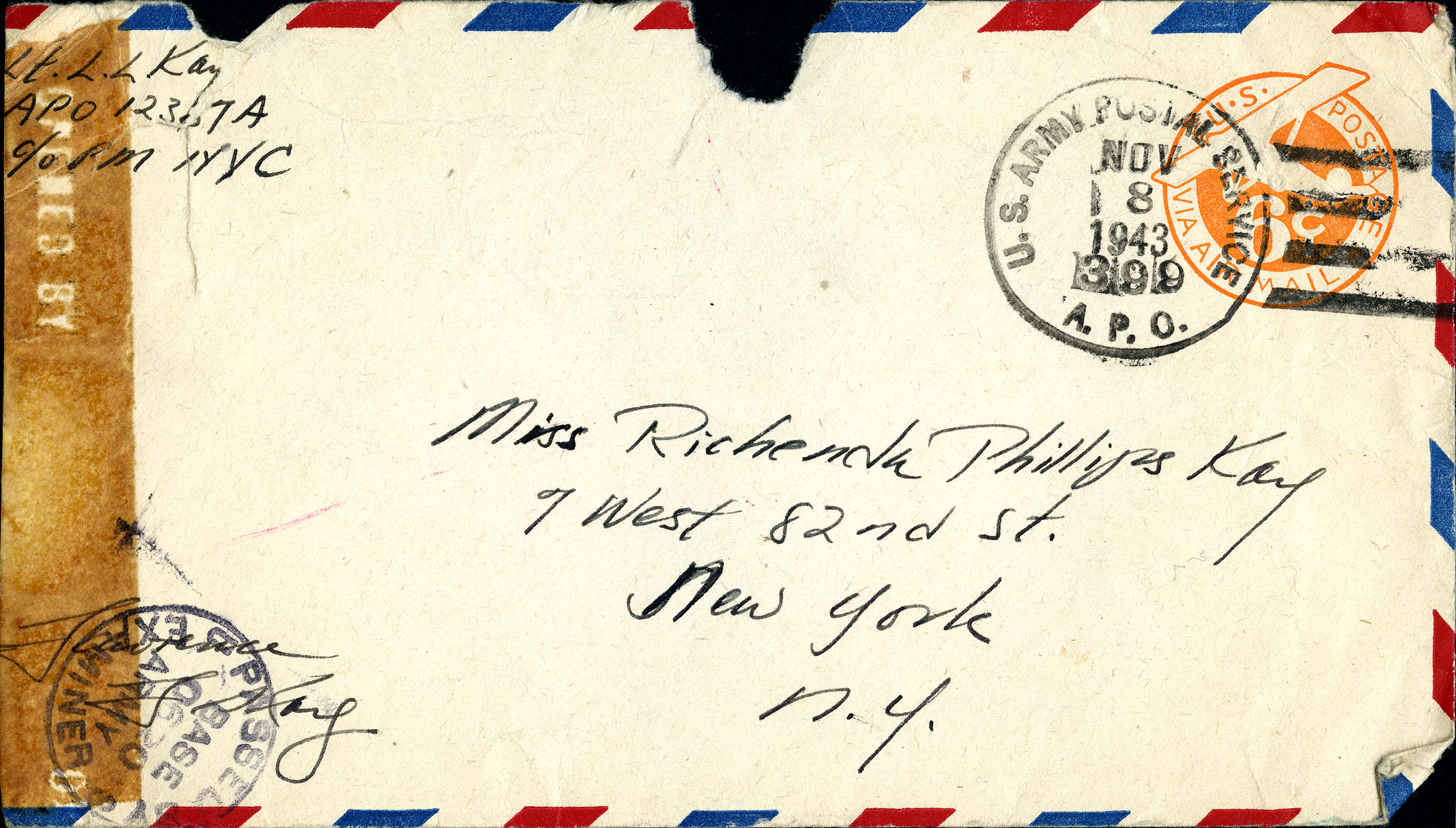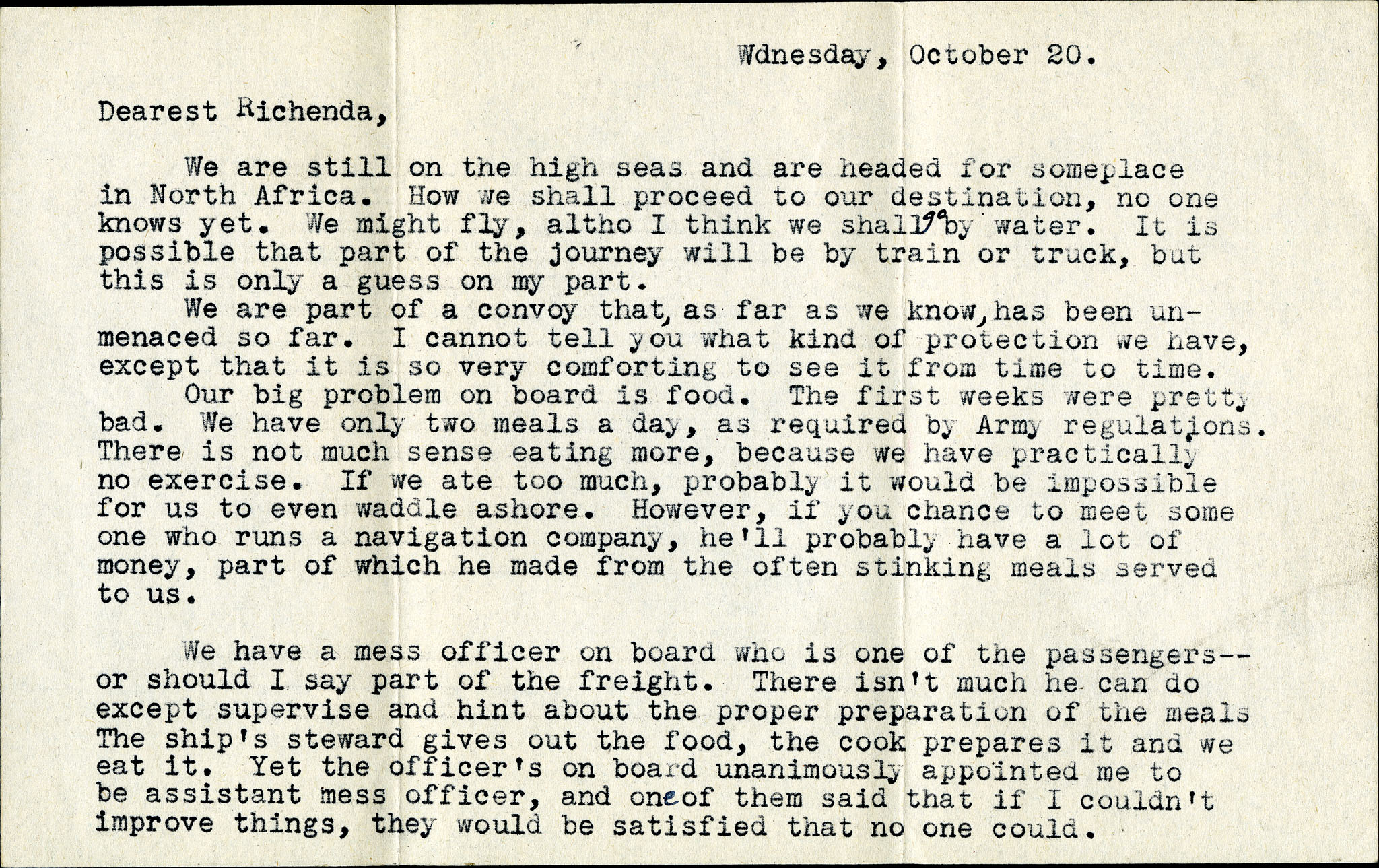 New York
While Lawrence Kay was serving in WWII, Richenda moved to New York City, where she became a model. Richenda has always been referred to as a stunningly beautiful woman by the people who knew her and even by newspapers that wrote about her. The first evidence of this is in a newspaper written in the Brooklyn Daily Eagle. After the death of her husband, Richenda enrolled in Columbia University, where she studied Asian Art. It was at Columbia where Richenda met John Rhoden. The two would begin building a long life together. While John was studying at the American Academy in Rome in 1954, the two married.
Hover over images to enlarge
Brooklyn Heights
In 1960, John and Richenda bought their house on 23 Cranberry Street, Brooklyn, New York. Like most people moving into a new neighborhood, the Rhodens did not have many friends. Richenda decided to set up a table to sell some of her crafts and meet her neighbors. The very small event would morph into a large scale block event and eventually turned into the Cranberry Street Festival. Richenda went on to found the Cranberry Street Association. For many decades, Richenda helped organize the event.
Richenda was mentioned as a notable resident in 2010 in the Brooklyn Heights Blog for her constant dedication and contribution to Cranberry Street Festival. In 2013 she was honored as NY1's New Yorker of the week.
"Because she doesn't have any immediate family she considers the neighbors and the street her family" - Quote from Cranberry Street's Richanda Rhoden Is NY1's 'New Yorker of the Week
NY1 on Brooklyn Heights resident Richenda Rhoden
Richenda, like her husband, dedicated herself to art and the community. Richenda was a painter and taught painting at Stuyvesant High School in the evenings as a part of their adult programming. Her entire life, she welcomed the community into her home. The Rhodens hosted holiday parties, community events, and house tours regularly.
Hover over images to enlarge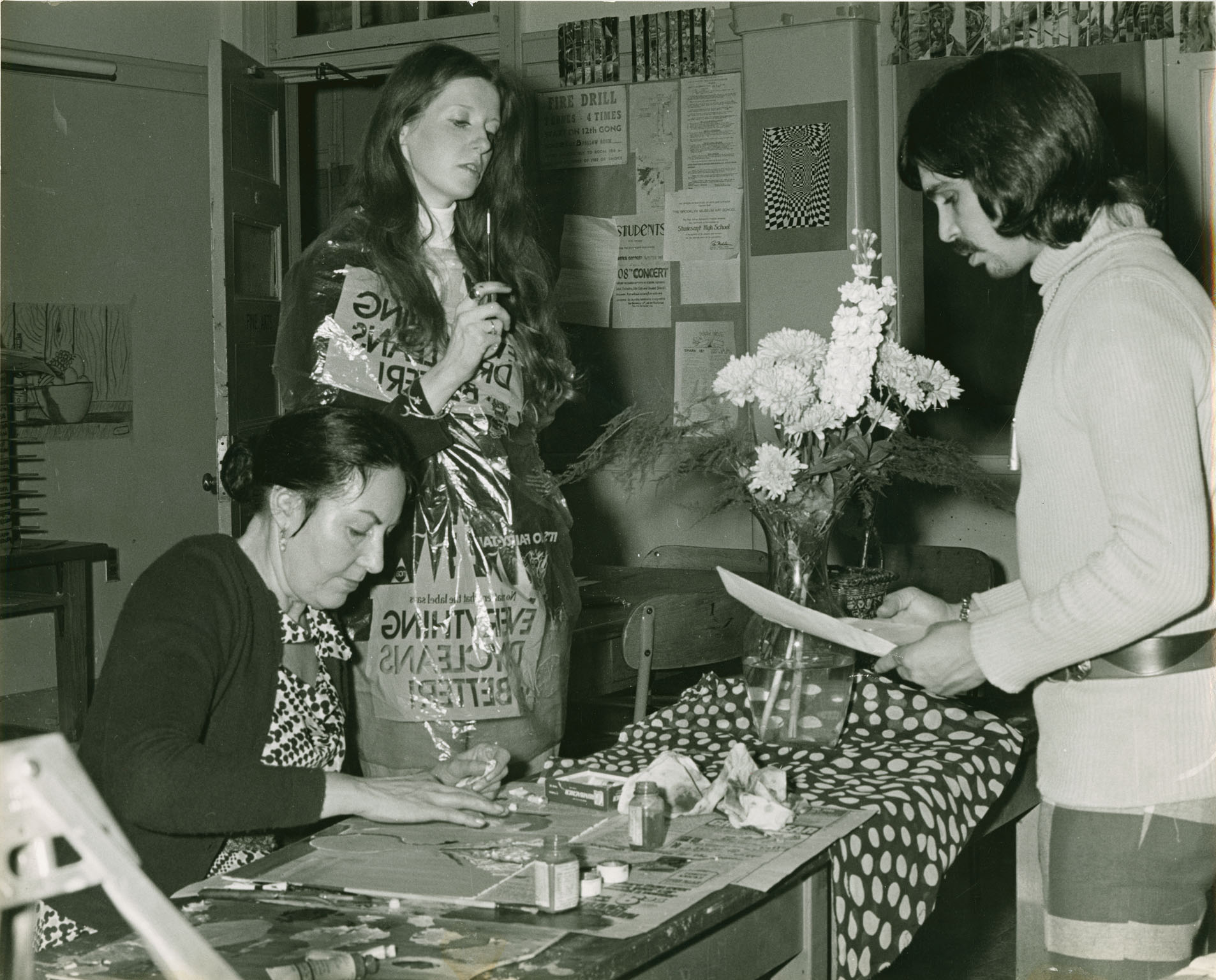 Artist
Richenda has always been an artist. In a German newspaper article, she describes herself as being a dreamer and tells stories of her painting as a child. During the 1950s and 1960s, Richenda traveled all over the world with John. While abroad, Richenda took photographs of the people she met and collected their stories. Her travels, along with her Native American heritage, served as great inspiration for her own art.
Hover over images to enlarge
The subjects of Richenda's paintings are often animals, nature, and sacred geometry. Her paintings are vibrant and layered with references to folklore and mythology. Hadley Suter connects imagery in Richenda's paintings with traditional Cherokee and Menominee folklore. Her paintings have been compared to those of Marc Chagall, Rufino Tamayo, James Ensor, and Joan Mitchell.
It is unclear how many times Richenda exhibited her work. The archival collection suggests she had joint exhibitions with John while the two traveled abroad and some solo exhibitions.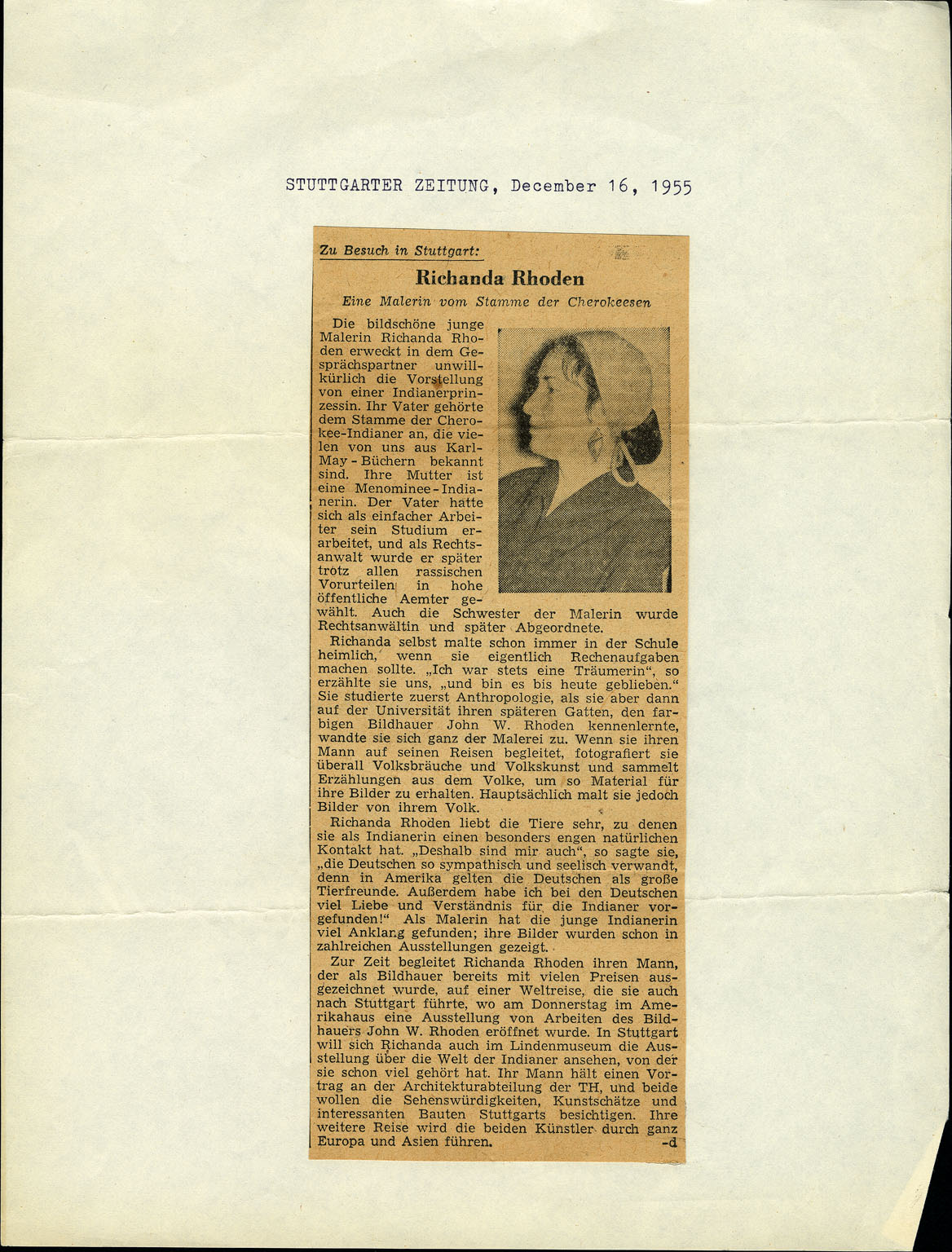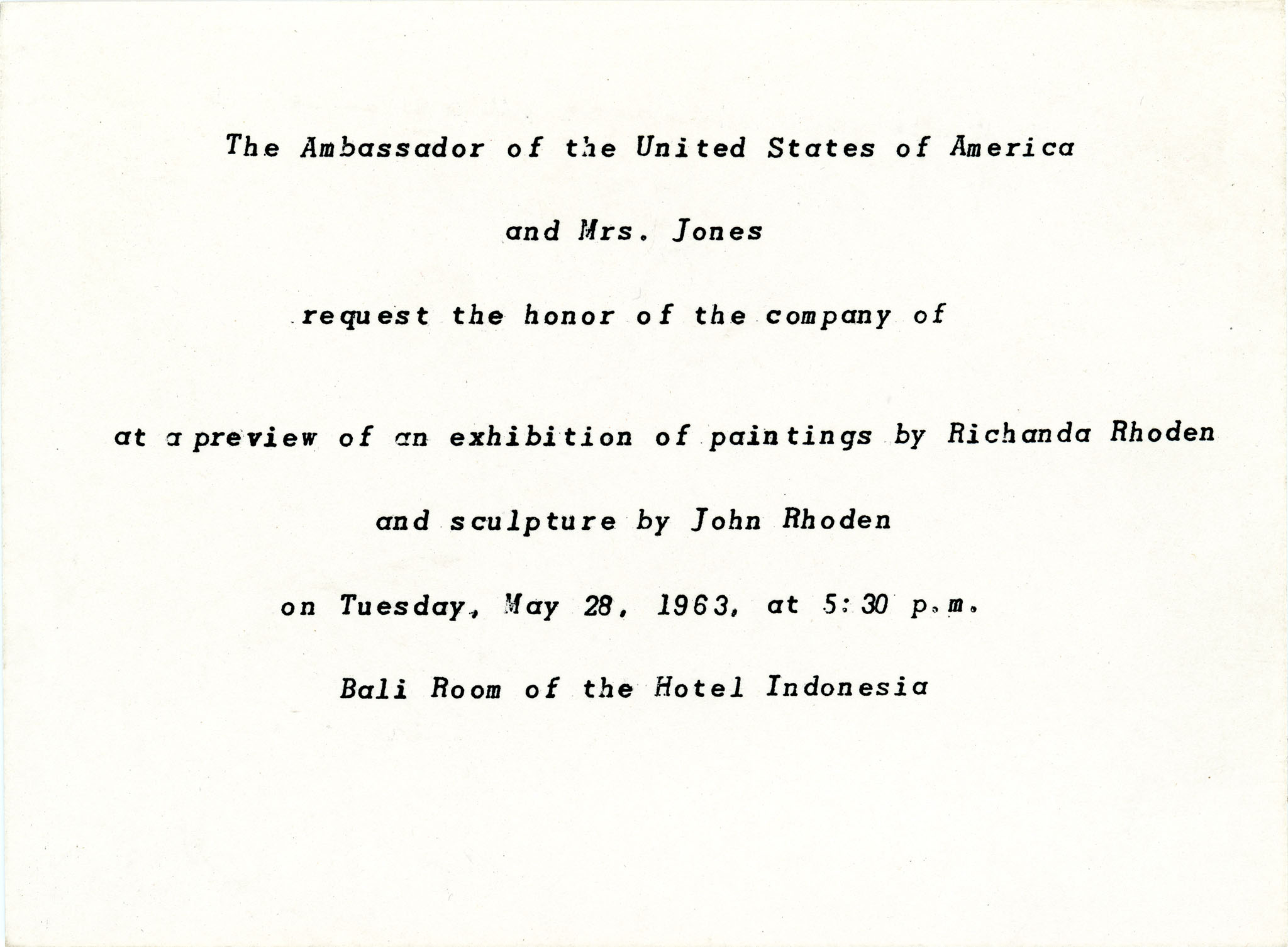 For example, a 1955 German clipping describes the exhibition (translation by PAFA Project Staff)

A painter from the Cherokee tribe. The beautiful young painter Richanda Rhoden involuntarily awakens the idea of an Indian princess in the conversation partner.

Her father belonged to the Cherokee tribe, whom many of us know from Karl May books. Her mother is a Menominee Indian. The father had completed his studies as a simple worker, and as a lawyer he was later elected to high public offices despite all racial prejudices. The painter's sister also became a lawyer and later a member of parliament.

Richanda herself always painted secretly at school when she was supposed to be doing arithmetic problems. "I've always been a dreamer," she told us, "and I've remained so to this day."

She first studied anthropology, but when she met her future husband, the colored sculptor John W. Rhoden, at university, she turned entirely to painting. When she accompanies her husband on his travels, she photographs folk customs and art and collects stories from the people in order to obtain material for her pictures. But mainly she paints pictures of her people.

Richanda Rhoden loves the animals very much, with whom she has particularly close natural contact as an Indian. "That is why," she said, "the Germans are so sympathetic and emotionally related to me, because in America the Germans are great animal lovers. In addition, I found a lot of love and understanding for the Indians in the Germans!" As a painter, the young Indian was very popular; her pictures have been shown in numerous exhibitions.
Richenda lived to be 99 years old. She painted almost every day and, due to limited mobility at the end of her life, she converted the freight elevator in her house into her studio. After her passing, the Soloway Gallery in Brooklyn, N.Y. hosted a retrospective exhibition of Richenda's work, curated by Emily Weiner.
Hover over images to enlarge
Author's Note
Please note that archives staff discovered two spellings for Richenda's name. Reviewing official government records, her name is, in fact, spelled "Richenda". As a result, staff have opted to use the official government spelling of her name "Richenda" instead of the more common spelling "Richanda". The records did not reveal why Richenda's name was spelled differently.
The extent of Richenda's archives can fit into one box. Her records physically make up a very small part of the John Rhoden papers. Despite all of this, Richenda's overall presence and historical narrative are strong, albeit indirectly. The one box of Richenda's materials links her to many different parts of history, and a researcher can create connections to repositories all over the country.
To start, Richenda was named after Richard Henry Pratt, the founder of the Carlisle school. This school has a complex and controversial history. Richard Henry Pratt built the school on the phrase "kill the Indian, save the man." Its legacy has many success stories and an equal number of tragedies. Richenda's parents met at the Carlisle Indian School, and despite the dark history, they seemingly view their time there positively. James Phillips became the first Native American judge in Washington State and later the Mayor of Aberdeen.
When Richenda attended the University of Washington in Seattle, she met Lawrence Lew Kay. Their courtship was short, and they quickly were married. Only weeks after they were married, Lawrence served in WWII and was to be stationed in China. He was killed in a missile attack on his ship traveling from North Africa to China. Lawrence is not just connected to WWII history. Lawrence was a very well educated man who studied at Harvard Business School and the University of Washington. He also followed in his family's footsteps as an active member of the community.
An example of this is from the early 1940s when organized the first Chinese boy scout troop. His grandfather, Goon Dip, was a public figure and philanthropist who relocated from China to the American West Coast. His daughter Rosalin married Lew Kay, and they were active in the Chinese community in Seattle, WA. All of Lawrence's siblings continued their family's legacy by becoming involved in their community and serving as public figures. Lawrence's life was cut short, and it is not difficult to imagine the life Lawrence could have accomplished if he had survived WWII.
Documents of James and Earny Phillips can be found at the Carlisle Indian School Research Digital Resource Center (opens in a new window).
To learn more about Goon Dip and his family legacy, please visit History Link - An Online Encyclopedia of Washington state history (opens in a new window).
To learn more about Lawrence Kay's military information, please visit Fold3 - Military Records (opens in a new window).