Biography
John Walter Rhoden was born March 13, 1916 to John Walter Rhoden, Sr. and Maime Shorter at No. 11th Avenue & Lawn in Birmingham, Alabama. Rhoden's father was a brakeman/fireman on a railroad who died in a work related accident in Harrisburg, Mississippi. Rhoden's siblings include a brother Tony (born Herman Santonio Rhoden, 1920 – 1991) who became a photographer in Chicago, and sisters Lillie Belle Rhoden and Myrtle Rhoden. Several other siblings have not been identified.
Rhoden attended Industrial High School in Birmingham, Alabama. During that time he was mentored by sculptor William Grant. At age 16, he executed a bust of the school's principal, Arthur Parker, who the school was later named after.
After high school, Rhoden attended Talladega College from 1934 to 1936. There he met Hale Woodruff, who was already an established muralist and painter. Woodruff encouraged Rhoden to visit New York where he met fellow sculptors Augusta Savage and Richmond Barthé. By 1942, Rhoden was a private enlisted in the Reserve Corps of the U.S. Army. During this time, Rhoden completed portrait busts of several high ranking members of the military, including Lieutenant General Hubert R. Harmon.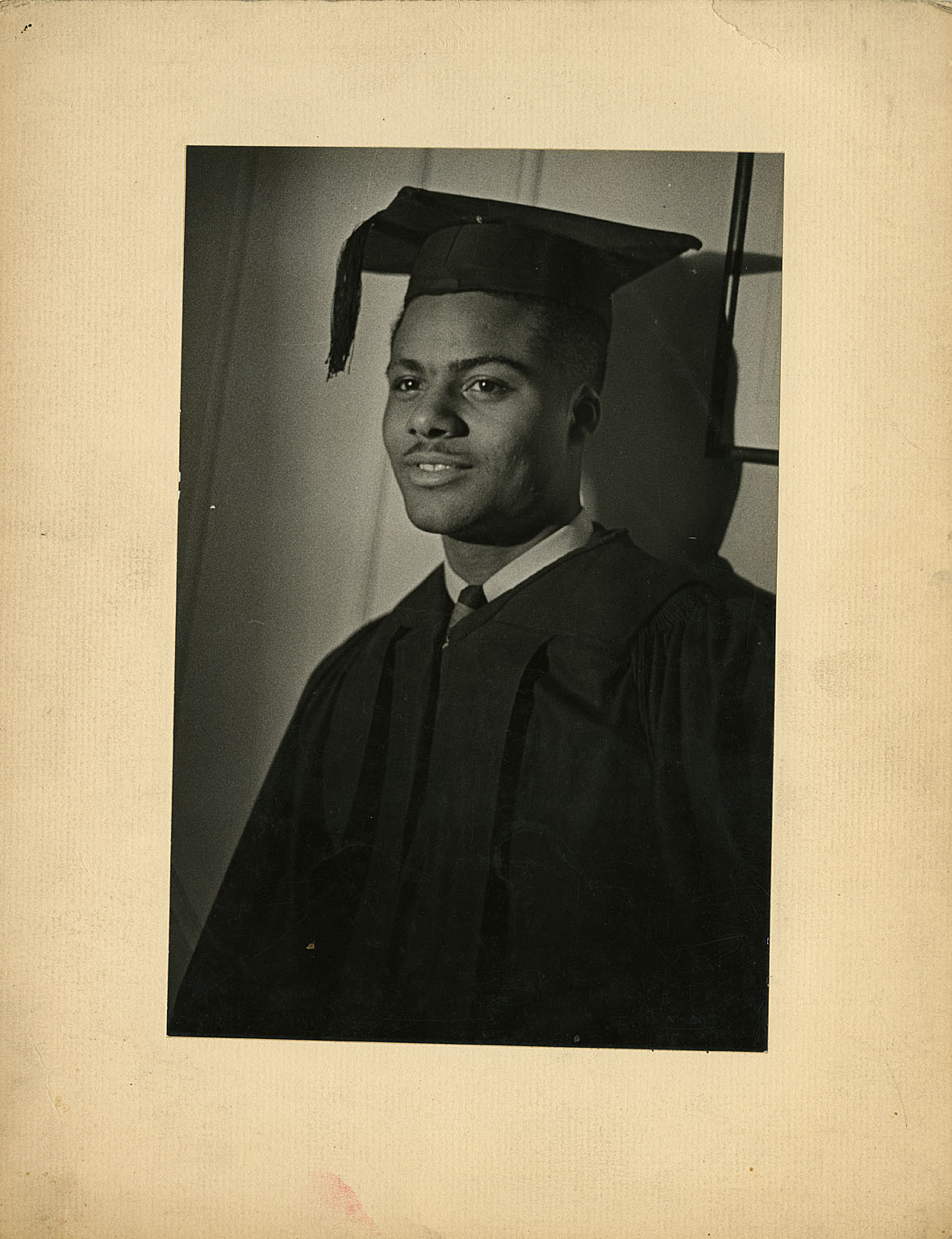 After his service, Rhoden attended the New School for Social Research and then Columbia University from 1947 to 1950 where he won the 1st Prize for Sculpture three times. Also at Columbia, Rhoden met classmate and painter, Richenda Phillips (also frequently spelled Richanda). They married in Rome, Italy in April of 1954.
After his time at Columbia, Rhoden spent a year at the Skowhegan School of Painting and Sculpture in Maine before attending the American Academy in Rome from 1951 to 1954 first on a Fulbright Fellowship and then the Prix de Rome.
Rhoden was selected by the United States Department of State to serve as an art specialist from 1955 through 1959 as a part of the International Cultural Exchange and Fair Participation Act of 1956 (ambassadors were sent as early as 1954). During this service, he visited over 20 countries [including Iceland, Ireland, Finland, Norway, Italy, Germany, Turkey, Egypt, Kenya, Rhodesia (now Zimbabwe), Uganda, Tangankika (now Tanzania), Zanzibar (now Tanzania), the USSR, Poland, India, Cambodia, Thailand, Indonesia, Vietnam, Korea, Japan, the Philippines, and the Soviet Union] in an official capacity. He was one of four such specialists during his time in the Soviet Union. The other three were Lamar Dodd, Franklin C. Watkins, and William Arthur Smith.
After his time traveling with the State Department, the Rhodens returned to New York City and purchased their home at 23 Cranberry Street in Brooklyn, N.Y. in 1960. Shortly thereafter, John Rhoden left for Indonesia on a Rockefeller Foundation Grant to set up a bronze foundry at the Institut Teknologi in Bandung from 1961 through 1963.
After their period of travel from the early 1950s through the early 1960s, John and Richenda Rhoden worked in New York City where they both taught and exhibited their art. During his later career, John Rhoden notably exhibited at the Whitney Museum of American Art, the Los Angeles County Museum of Art, and the African American Museum in Philadelphia. He also completed several major commissions including Zodiacal Curved Wall for the Sheraton Hotel in Philadelphia, A Happy Family is the Core of a Healthy Community or Monumental Bronze for the Harlem Hospital in New York, Monumental Abstraction for the Metropolitan Hospital in New York, Nesaika for the African American Museum in Philadelphia, Mitochondria for the Bellevue Hospital Center in New York, Frederick Douglass for Lincoln University, and Reverend Fred Shuttlesworth for the Birmingham Civil Rights Institute.
In the 1970s and 1980s, the Rhodens became active members of their community. John Rhoden worked for the New York Board of Education and taught art classes for local public schools. He and Richenda led classes and tours through their home and studio at 23 Cranberry Street.
John Rhoden died at 84 years old on January 4, 2001 in New York, NY.
Education
1934 - A.H. Parker High School (then "Industrial High School"), Birmingham, AL
1934-1936 - Talladega College, Alabama
1939-1940 - New York School of Art
1945-1946 - New School for Social Research, New York
1947-1950 - Columbia University, New York, New York
1950 - Skowhegan School of Painting & Sculpture, Skowhegan, Maine
Fellowships / Grants / Awards
1947-1948 - Rosenwald Fellowship
1947, 1948, 1950 - First Prize for Sculpture, Columbia University
1950 - Skowhegan School of Painting & Sculpture scholarship
1950 - Tiffany Award in Sculpture
1951-1952 - Fulbright Fellowship
1953-1954 - Prix de Rome Fellowship, American Academy in Rome
1955-1956 - United States Department of State
1959 - Rockefeller Foundation Grant
1959 - Four-person artist delegation touring the Soviet Union under the auspices of the U.S. Department of State
1959 - United States Department of State, Asian Tour
1961 - John Simon Guggenheim Foundation Fellowship
1961 - Honorarium and Medal Pro Sculptura Egregia, Howard University
1962 - Consultant SeniRupa, Institute Teknoloi Bandung Indonesia
1967 - Visiting Scholar, Fisk University (during Festival of Music and Art)
1967 - Honorarium, Fisk University
1967 - Life Membership in the Municipal Art Society of New York
1968 - Honorarium, University of Georgia
1986-1987 - Albany State College Artist in Residence, Albany, GA
Sketchbooks
The mind of an artist. Flip through John's sketchbooks so you can get a sense of his artistic process and thoughts. After you're done browsing the sketchbooks, take a look at John's works of art in PAFA's Permanent Collection to see how they turned out.